Pubg Mobile Season 16 Royal Pass: Release Date Gun Skins Rewards
Pubg Mobile Season 16 Royal Pass: Release Date Gun Skins Reawards
PUBG Mobile Season 16 – When is PUBG Season 16 coming in Pubg Mobile KR & global version? The most awaited PUBG Mobile Season 16 is set to release soon and the PUBG Season 16 Tier Rewards is confirmed including Bronze Tier Rewards, Silver Tier Rewards and more and players looking for a PUBG Mobile Season 16 release date Can read the article. When will season 16 start in pubg? There was a question among the players as season 15 would end by 15 November. Read more to get detailed information about PUBG Mobile Season 16 Royal Pass Rewards and PUBG Mobile Season 16 Release Date.
Pass Royale In Season 16
Just like every other season of PUBG Mobile, Season 16 will have a Pass Royale with 100 Ranks of rewards to attain.
Pubg Season 16 Tier Rewards:
There will be a free Pass Royale, as well as an Elite Pass Royale, with the former topping out at Rank 60 until you open your wallet.
If the previous seasons are anything to go by, then the different PUBG Mobile Pass Royale options for Season 16 should look like this:
Free Royale Pass: Open to all players. Earn Royale Points (RP) from completing missions, items from crates and more to rank up.
Royale Pass Elite: Gain rewards faster and rank up faster via Elite missions. Immediately get 4,000 UC worth of rewards.
Royale Pass Elite Plus: Includes everything in the Elite Pass. You also get 25 ranks unlocked instantly, at 40% off the Elite Pass offering. Immediately get 10,000 UC worth of rewards.
Royale Pass Season 16 Release Date:
Pubg players are waiting for the season 16. But when is season 16 coming in pubg? is the question among the players. The answer is we can expect the Pubg Season 16 on 17th November.
Click Here To Download PUBG 1.1 update
Expected Gun Skins & Outfits: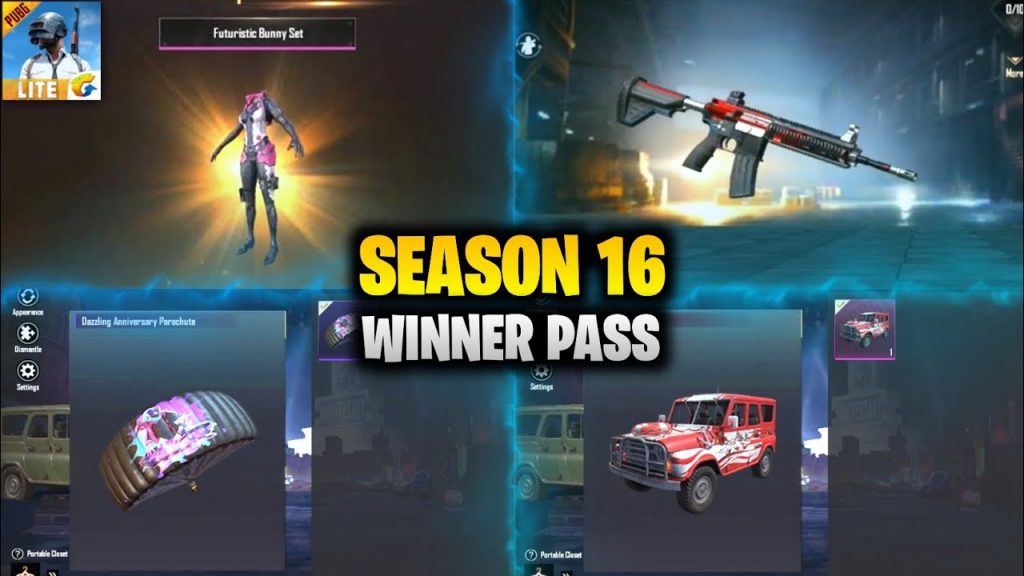 Outfits
Night Terror Outfit
Draconian Champion Set
Le Tigre Suit
Headgear and Mask
Night Terror Headgear
Draconian Champion Hat
Weapon Skins
Metal Jungle – Scar-L
Season 16 – Thompson
Draconian Champion – M16A4
Draconian Champion – Machete
Outlawed Fantasy – UMP45
Winter Queen M249 V
Icicle – Mini14
Vehicle Skins
Draconian Champion Finish
Other Rewards
Season 16 Combat Goggles
Draconian Champion Backpack
Draconian Champion Parachut
Click Here To Download PUBG 1.1 update