How to Fix Disney Plus Error Code 41 | Simple Steps To Fix
How to Fix Disney Plus Error Code 41? Lets Solve it in few simple steps. firstly you need to know That the Walt Disney Company owns Disney+, an American video-on-demand subscription-based OTT platform. However, it appears that the Disney Plus Error Code 41 is affecting a large number of customers, preventing them from watching the requested videos online. It means that for some reason, the content you're trying to see isn't available from the Disney Plus servers. If you're one of the victims, be sure you fix it by following this troubleshooting advice.
Even if you restart the Disney Plus app and try playing the material again & not Fixed Disney Plus Error Code 41, the issue persists, which is still another source of frustration for users. However, this does not imply that the problem is limited to the Disney Plus server. Because this issue could also be caused by a problem with your internet connection. Fortunately, we've included a few of alternative remedies below that should assist you in resolving this issue.
Also Read: How to enable on screen keys in Any Android Smartphones | Enable soft keys
Also Read: Hotstar Screen Mirroring Black Screen Problem Solved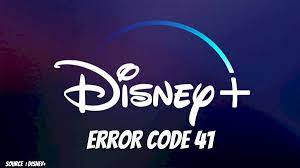 How to Resolve Error Code 41 in Disney Plus Step By Step
How to Fix Disney Plus Error Code 41: According to the Disney Plus Support team, the error code 41 is entirely due to a digital rights issue. It occurs when a user tries to play content that the service does not have the rights to stream or that is not available in their region.
Step 1. Restart Your Computer
If you're streaming Disney Plus material on a mobile or desktop, be sure to restart the device once to guarantee that there isn't a problem caused by a system glitch or temporary cache data. If you use a Firestick-like streaming device with your TV, you need also restart the streaming device.
Step 2. Retry or Stream a Different Video
If a simple reboot of your smartphone or streaming device does not resolve the issue, it appears that retrying to play the specific video many times may be effective in some situations. Due to a rights management issue, the application or online player may fail to stream the content due to a bug.
Also Read: Vivo X Note with a 7-inch screen, 60x telephoto lens, specs, price, launch date in india
If the several efforts don't work, try watching a different movie on the Disney Plus platform with the same account and internet connection to make sure what's happening on is indeed what's going on. If the same error number occurs repeatedly, it's possible that the issue is caused by a lack of network connectivity.
Step 3. Restart the networking device
Well, there's a good probability that your networking gear, such as a Wi-Fi router, is having troubles with networking connectivity or a system glitch. A simple power cycle of your router will fix the problem. To do so, follow these steps:
Switch off the Wi-Fi router and let the LED indicators stop blinking completely.
Now, unplug the power cable from the router and power source.
Wait for around a minute and plug back the cable in.
Finally, power on your router > Connect to the Wi-Fi and check if you're able to fix the Disney Plus Error Code 41 or not.
Step 4. Test Your Internet Connection Speed
Another simple technique is to check your internet connection speed, such as what your current download and upload speeds are. To do so, go to Ookla Speed Test or Fast.com in your web browser and check your internet speed in real time.
Simply Fix Disney Plus Error Code 41 ensure that you're checking for the same internet connection speed that you're using when streaming Disney Plus video. It's worth noting that in order to successfully stream or load the content from its server, your internet speed should be pretty good. The following speeds are required for the Disney Plus service:
Also Read: How to Secure Whatsapp Account From Hackers
5.0+ Mbps for high-definition content
25.0+ Mbps for 4K UHD content
Step 5. Switch to a different device
If none of the above techniques worked to Fix Disney Plus Error Code 41, try retrying the video streaming with a different streaming device or your mobile/computer. It's also possible that switching to a different device will solve the problem in a flash. It only occurs as a result of a transient cache data or malfunction that can be detected on mobile and Windows operating systems
Step 6. Delete and reinstall the Disney Plus its also a good idea to uninstall and reload the Disney Plus software on your smartphone or television. This will simply remove all potential issues such as transient glitches, cache data, corrupted app files, and so on. Additionally, the Disney Plus app and the server will be forced to re-login to the account.
Step 7. Verify the status of the Disney Plus server
It appears that the issue Disney Plus Error Code 41 is coming from the server side, and in order to confirm this, you should go to the third-party Down Detector Disney Plus Server Status page to obtain all the latest information. You'll also get information about the previous 24 hours, the most commonly reported issues, a live outage map, and more.
We can see that many users have been experiencing Disney Plus Error Code 41 video streaming and account log-in troubles for a few days or so at the time of writing this article. You should have to wait till the problem is resolved in that case. We can anticipate the technical team attempting to resolve the server-related issues as early as possible.
Step 8. Get in touch with customer service.
If nothing seems to be working for you and the Disney Plus Error Code 41 continues to arrive at random after hours of waiting, contact Disney Plus Custom Support for assistance. You may also submit a resolution ticket with all relevant information and screenshots to have it resolved as soon as possible.