How to Cast Disney+ Hotstar on TV | Hotstar Screen Mirroring Black Screen Problem Solved: The release of Disney+ Hotstar during this quarantine period has brought new content for consumers to watch online and spend their time watching their favourite IPL 2022, Star Wars, Disney, and other movies and shows. However, many users have recently complained on social media that Disney+ Hotstar screen mirroring does not work on Smart TVs. If you're having trouble CAST your screen for Hotstar, here's what you need to know.
Hotstar Screen Mirroring Not Working
According to Disney+ Hotstar terms and conditions, the online streaming app does not support screen mirroring options.
However, users can use Chromecast, Miracast and other casting apps suitable for the devices to watch Hotstar on their TVs. But, for the same, one needs to be connected to the same WiFi.
How to Screen Mirror Hotstar on TV?
If you want to use Hotstar screen mirroring option despite the terms and conditions of the app, here is what you can do-
If you have the app in mobile, open Settings
Then go to Apps
Tap on Disney+ Hotstar
Now, tap on Clear defaults.
Screen Mirror your smartphone
Then, open your web browser and Google search Hotstar
Rotate your mobile screen for a full-screen view on TV and enjoy your favourite shows, movies and more.
How to cast your Screen to TV Without Black Screen
To Mirror Hotstar on Smart tv Without a Black Screen, You Have to Follow the Below's Steps:
First install disney plus hotstar  on your mobile
login into disney plus  hotstar app
Install the Tai Chi app From Official Website.
Install Tai Chi app  and disableflagsecure module
Now open the Tai Chi app on your phone
click on create an app and choose disney hotstar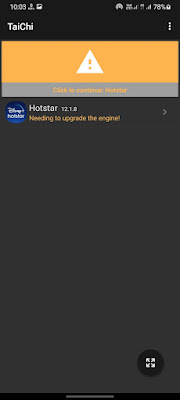 Install disney plus hotstar app in Tai Chi
It will ask you to uninstall hotstar from your device , here you need to uninstall original disney plus hotstar app.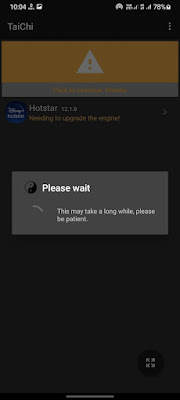 Now click on the action button (which is available on the bottom left side – in the corner) – for more options
Click on manage modules option
Now you have to activate disableflagsecure module by just checking the checkbox of disable flagsecure.
Now simply cast your disney plus hotstar to smart tv.
Open-disney + hotstar app from TaiChi app.
Here you notice that there is no black screen on your smart tv and you will also notice that disney plus screen is also visible on your smart tv without fail.