The developers of Pubg Mobile have released new version of Pubg Mobile 1.3 Update Patch Notes. If you will download Pubg Mobile 1.3 3rd Anniversary Update then you can experience a better gaming with new season 18 gameplay.
Pubg Mobile 1.3 Update Release Date and Download Size:
To give everyone a better gaming experience, PUBG MOBILE will be pushing out updates starting from March 9. The server will not be taken offline for this update. This update requires 640 MB of storage space on Android devices. The iOS version requires 1.55 GB. Please note that players on different versions cannot team up with each other, so please update as soon as possible.
Update Reward:
Update the game between March 9 and March 14 (UTC+0) to get:
3,000 BP
100 AG
Cute Kitten – Pan (3d)
Pubg Mobile 3rd Anniversary New Features:
Hundred Rhythms Mode (From March 9)
Hundred Rhythms arrived in Erangel, get the party started at the electronic music festival. The Music Armband grants 3 special skills. Choose a skill that suits you, upgrade the skill by collecting scattered cassettes, and dominate the battlefield with the help of your skill. Choose Erangel in the map selection screen to experience this exclusive gameplay mode.
Gameplay
A screen requiring players to choose a skill will appear on Spawn Island. Players will need to choose 1:the Guardian Armband, Recon Armband, or Camouflage Armband before the match begins.
Players will get 3 skills after selecting a skill. The first is an active skill that grants the player a powerful ability; the other two are passive skills that grant the player buffs. Players will start the match with just the core skill and will need to get cassettes to unlock the passive skills.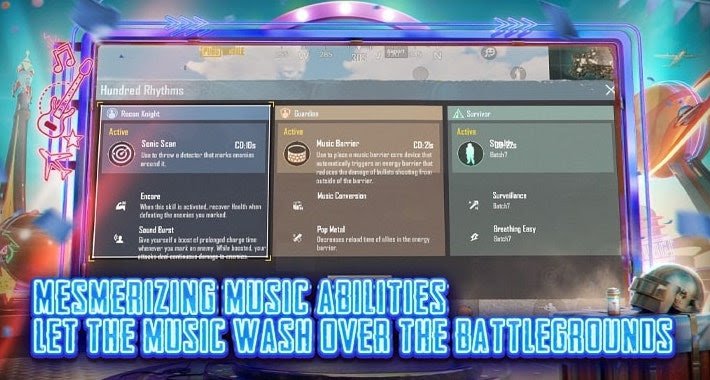 In each match, 3 electronic music squares will spawn on Erangel. One of them will always spawn on Spawn Island, while the other 2 will spawn in random locations. The electronic music festival playing dance music awaits your exploration.
Armband Abilities:

Guardian Armband:

Music Barrier – When used, this skill activates a device that generates a semi-transparent column-shaped barrier that reduces the damage taken from bullets.
Music Conversion – This skill activates an interactive feature for the barrier generator. Players can use this feature to disable the barrier and recover the Energy of allies within range instead.
Pop Metal – Players and their allies will have decreased reload time when they are inside the barrier.
Recon Armband:

Sonic Scan – After using this skill, the player throws a scanning device forward to scan and mark enemies.
Encore – Players will recover Health after knocking out marked enemies.
Sound Burst – When there are marked enemies, your ammo will carry an electric charge that deals damage over time to enemies hit.

Camouflage Armband:

Stealth – After using this skill, the player's outfit changes to a Ghillie Suit for a period of time. The weapons and backpack on the player's back will be concealed during this period.
Surveillance – A UI tip will appear on the screen if there are any enemies nearby.
Breathing Easy – If the player hasn't taken any damage recently, the player will gradually recover Health.
Royale Pass Season 18 Release Date: HUNDRED RHYTHMS (From March 17)
There will be a 3rd Anniversary music theme screen and rewards. Players can choose rank rewards twice as they progress in the Royale Pass. After the anniversary party starts, some special guests will also make an appearance. In addition to an AUG finish, players also get to choose between 2 advanced sets at rank 1 and rank 50. At rank 100, get the Violin Music Set and a mysterious Kar98K Finish!
An adventure event will start with the music. Adventure Vouchers have been added to the free rank rewards, and players can use them to redeem 1 of 2 sets twice on the event page. The adventure awaits.
The RP Activity Pack event begins in the new season: Purchase the RP Activity Pack to gain RP ranks quickly and collect Mission Activity Points to get your UC back as rebates.
Fixed other bugs affecting missions and other content to improve players' experiences.